Coconut Jelly Party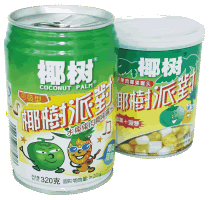 Coconut Jelly Party is a new product developed according to the demands of the market. The coconut jelly, which contains rich fiber, is made from fermented coconut water. The flavor of the product is especially unique after being added with pineapple slices. The product is well received by consumers since being put into the market.
Natural Mixed Congee in Syrup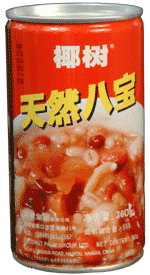 The product is manufactured from the traditional eight-treasure rice congee through advanced technology. The product preserves the nutrition constituents of grains. It isdelicious due to the advanced processing technology. The product is a new type of instant nutritional canned food.
Coconut Palm Brand Jelly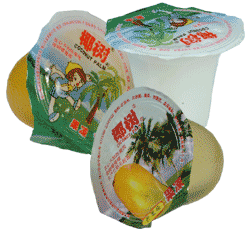 Coconut Palm Brand Jelly takes natural mineral water and coconut jelly as major raw materials. The product is honorably called "an instant fruits' food". It has fresh and unique flavor of tropical fruits, and contains rich nutrition constituents of fruits. Among the same kind of products, it is higher in quality, but lower in price.
Coconut Jam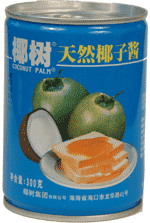 The product is finely produced from fresh coconut juice, fresh egg, and cane sugar. The product contains rich protein and various amino acids essential to human body. It is a premium nutritional fruit jam, and can be used as high-class additive for hotels, restaurants, and families.
Lotus Seeds Tremella & Longan & Tremella


The products are finely manufactured from lotus seeds, tremella, and longan through scientific processing technology. They are instant foods with rich nutrition constituents. The products can be served for the whole year, either hot or cold.