Coconut Palm Pineapple Juice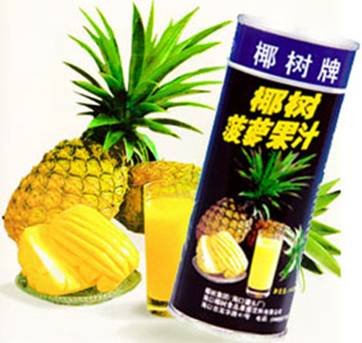 Pineapple is Hainan traditional special product, complete in color, fragrance, and taste. The juice processed with the pineapple introduced from Bali is especially good in taste. The Coconut Palm pineapple juice, developed recently by our factory, is produced with the pure meat of Bali pineapple after cutting of heads and tails, being stripped and removed the core, completed with natural mineral water and sugar. The product retains rich nutritional elements and is adequately adjusted the proportion of sugar and sour, letting more complete in color, fragrance and taste, It is a good drink for all over the year.
Natural Almond Syrup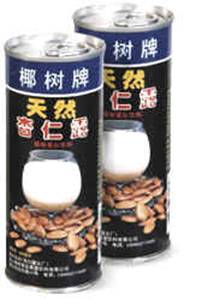 The product is a drink with rich vegetable protein, fine color, fragrance, and taste. The juice is milk white with unique fragrance of almond. This product is manufactured from fresh almond after being peeled, and completed with natural mineral water and sugar. It is a good selection for both the old and the young.
Coconut Palm 2 to 1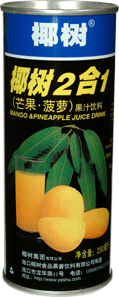 The pineapple and Mango 2 to 1 Fruitjuice, is processed with fresh meat juice of pineapple and mango completed with sugar and natural mineral water. The product preserves the taste and nutrition of pineapple and mango after adjusted the proportion of sweet and sour scientifically.
Coconut Palm Brand Sweet Apple Drink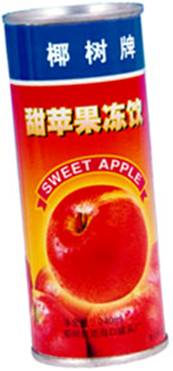 The product is produced from raw materials of fresh apple juice (or concentrated apple juice), sugar, transparent fruit jelly, honey, citric acid, and edible essence after undergoing a series process of preparation,filling, seaming, and sterilizing. The transparent jelly added into the drink can be consumed with straw. The content of jelly is not less than 4%.
Coconut Palm Brand Litchi Drink and Orange Drink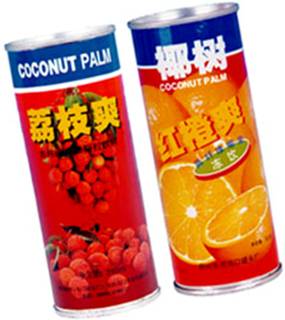 Litchi Drink and Orange Drink take high-fiber coconut jelly, citric acid, natural essence, concentrated fruit juice, and litchi juice as raw materials respectively, and are manufactured with scientific processing methods. The products are adequate sweet and sour, tasty and refreshing. Both of them are rare premium drinks.
Coconut Palm Honey Cool Drink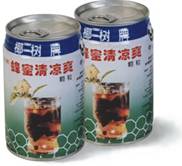 Coconut Palm Hong cool drink is processed with the raw materials of natural mineral water, cool powder, sugar, honey, starch through special technology, The product is a unique cool drink with solid contents over 12%.

Coconut Palm Longan Cool Drink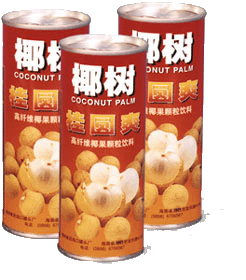 The product is scientifically prepared with fresh Longan meat, high-fiber coconut jelly, without any additives. It is a pure natural high-class drink. The product is unique in taste, cool and refreshing. It is a high-class drink containing
various nutrition elements.
AD Ca Milk


The product selects milk powder as raw material, completed with natural mineral water, sugar, mango juice, citric acid. It is different from the existing kinds of milk with plastic package in the market. It is a high-quality product processed with advanced processing technology according to scientific prescription without adding essence and preservative, greatly retaining the nutrition element, local flavor and color of raw materials, safe and liable to drink. Meanwhile, this product is strengthened with Va, Vb, Ca,
and scytonematacea bacterium, according to national regulations. The product is fragrant, pleasant in taste, especially suitable for young, women and the old to drink.

Natural Mango Juice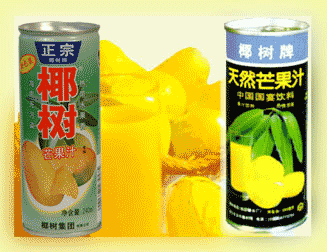 Coconut Palm Brand Mango Juice, honorably selected as Beverage for the State Banquet of China, is finely manufactured from raw materials of high-quality fresh mango, mineral water, and sugar as. The product contains rich nutrition, various vitamins and amino acids, especially vitamin A, vitamin B, and vitamin C. The product retains the unique flavor of mango, a tropical fruit growing in Hainan. The juice is uniform, golden yellow, fragrant, mild sweet and sour, without adding essence, pigment, preservative. It is a natural and nutrition fruit drink.